I'm pretty sure everyone out there has had at least one encounter with Facebook re-marketing. You might not have noticed this at the time, but think back to that camera you saw on Facebook, isn't it the same camera you so happen to have seen on Amazon website?
Facebook re-marketing is more common than you may think and there's obviously a good reason behind, it really truly works!
I will give you an example, a girl from the office is going to a wedding in July and obviously being the girl she is, she started looking for dresses as soon as she found out about it. In January she found this one dress on TK Maxx that she absolutely loved but because it was too early on she figured she'd better wait until later to buy this dress, but every time she logged into Facebook there it was, in its full blue amazing glory. But her mind kept unchanged, until she saw the same dress, again, on what looked like the same ad, but under the picture it said, "Only 1 left in your size". Do you know what happened? Of course! She went and bought the dress straight away. Why? Well according to her it was meant to be.
Deep down she knows that there isn't an almighty clothes God out there, and that he somehow made that particular ad appear on her newsfeed. Rather, a really clever advertiser knew that she was looking at the ad when it was shown before, he also knew her size and that she kept visiting the website to see if this dress was still available so he knew that all she needed was a little push and that those words would make her change her mind. And so they did.
What is Facebook Re-marketing?
Facebook re-marketing is when you serve ads to people on Facebook that visited your website but have failed to complete the action you want them to make. This is possible via a Pixel you put in your website, which places cookies on visitors devices that then allow you to track them and remind them that they have not yet purchased anything and remind them of what they are missing out on.
There are three main re-marketing types on Facebook, these are:
Customer Lists
These can be anything from emails, phone numbers or even Facebook user ID's, all you need to do is store the list in a .csv or .txt document and import it to Facebook and start targeting people with ads that are relevant to the category they might fall within.
Website Traffic
This is the type of ad you'll be most familiar with, what it does is once the Pixel has been placed on your website, the tracking code will send the information to Facebook and it will match the criteria to the person and select what type of ad should be shown to them.
App Activity
This is useful for those visitors that place items in their cart but end up not committing to a purchase. What you can do with this is set up an ad that remarkets these visits by offering them a discount on Facebook as an encouragement to finalise the purchase.
Why should you use Facebook Re-marketing?
What the hell, why wouldn't you? I don't think you have been paying attention to what I've been telling you so far, this is definitely one of the best re-marketing tools out there!
This is a metaphor for life, just think about it this way, you've met this amazing women, you've been on a date with her, it was awesome, she was funny, she was hot, you kept throwing things at her as a test and she kept replying with answers that knocked you of your socks. Would you rather go on another date with her, knowing that you had a whale of a time with her and you would probably do again, or you'd rather go on a blind date, the unknown, it could be someone that looks just like aunt Belinda for all you know. Exactly! You'd go on the date with the amazing women (P.S. Good shout!).The same applies to re-marketing, if someone is already acquainted with your products they're much more likely to convert. In fact, Facebook re-marketing ads get 3X more engagement than normal Facebook ads.
But enough of this chit chat, let me show you how to setup the AMAZING Re-marketing Ads on Facebook.
On previous articles I have explained how to install a Facebook Pixel on your website and I have also covered Custom Audiences (in case you haven't read the article on Facebook Pixel do so now here, alternatively if you failed to learn how to setup custom audiences, click here) so I will be jumping straight to showing you how to create Re-marketing Ads on Facebook.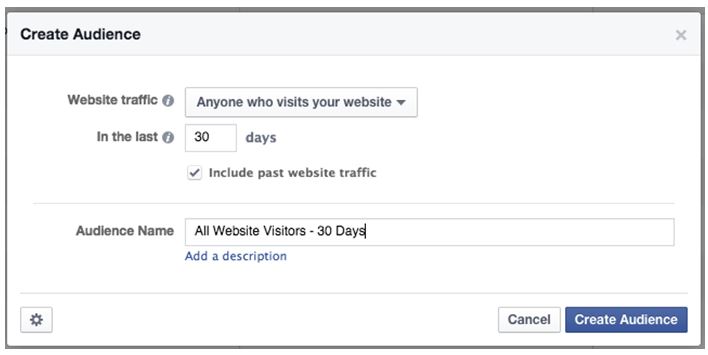 In this case I have created a new audience for anyone that visits my website in the last 30 days, the range is quite wide, it can be from 1 day all the way to 180 days, so you've got quite a choice here.
But there are other options, you can be much more specific with your targeted audience. You may want to retarget only a portion of the traffic that has visited a landing page on your website. No problem. You can do that by creating a personalized custom audience:
Go to your Facebook Ads Manager and choose "Audience";
Click on "Create a Custom Audience";
Under Website Traffic, select "People Visiting Specific Pages";
Next to the Visited field, customize the URL elements to match the pages you want to retarget;
Click on "Create".
This is only to show that you don't have to target EVERYONE that visits your website, you can be as precise as you want to be.
There are other targeting mediums that I think are not only very good to use but worth mentioning.
Facebook Fans
When setting up your Facebook remarketing ad, select "Target users who are connected to" then type in your page name.

Email Lists
This is useful when you would like to strengthen the relationship you have already established with your newsletter subscribers. The only thing to note here is that in order to do this type of re-marketing you will need to import the emails of those subscribers and there's a chance that some of the contacts will not be reached because their Facebook email address might be different from the one they have used to subscribe to your newsletters. Last but not least;
Re-Engagement
Target those who haven't visited your website in a long time, don't let them forget you and your brand, they may not buy anything right away, but rather remember you are there when they are looking to purchase something you provide.
Step by Step Instruction
Go to you Ad account > Create Campaign. The screen you will now see if the following;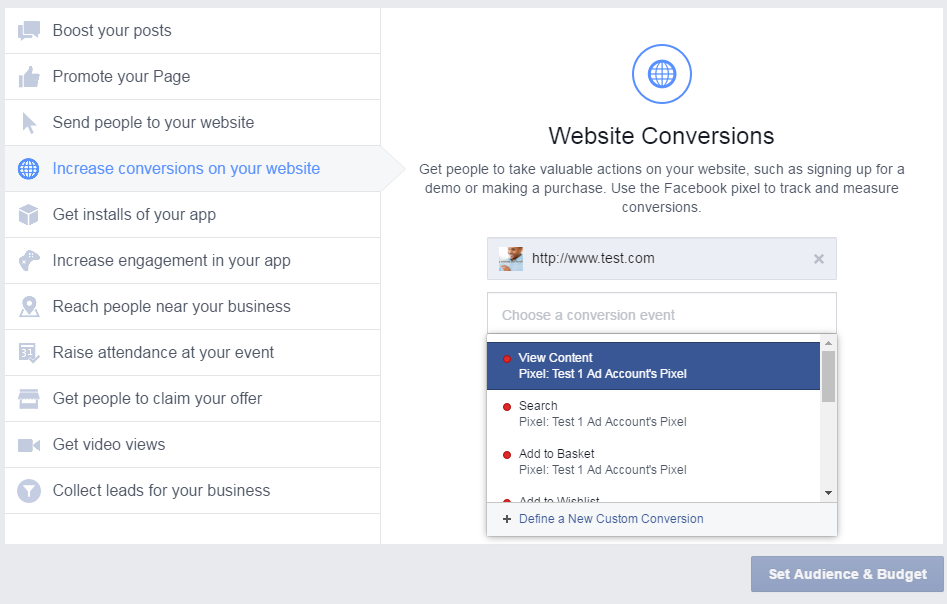 Now you need to select what you would like to do with your campaign, in this case we want visitors that have been to the website to convert. So we are selecting "Increase conversions on your Website" from "View Content". Proceed to "Set Audience & Budget".
Here you need to select what is your target audience, their location, age groups, gender and language.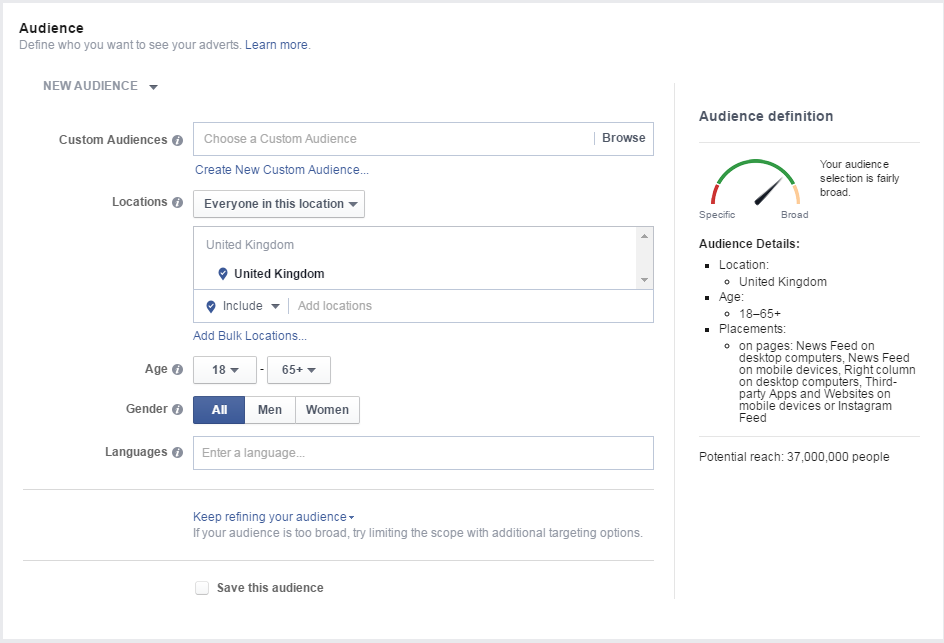 The next step will be selecting the budget.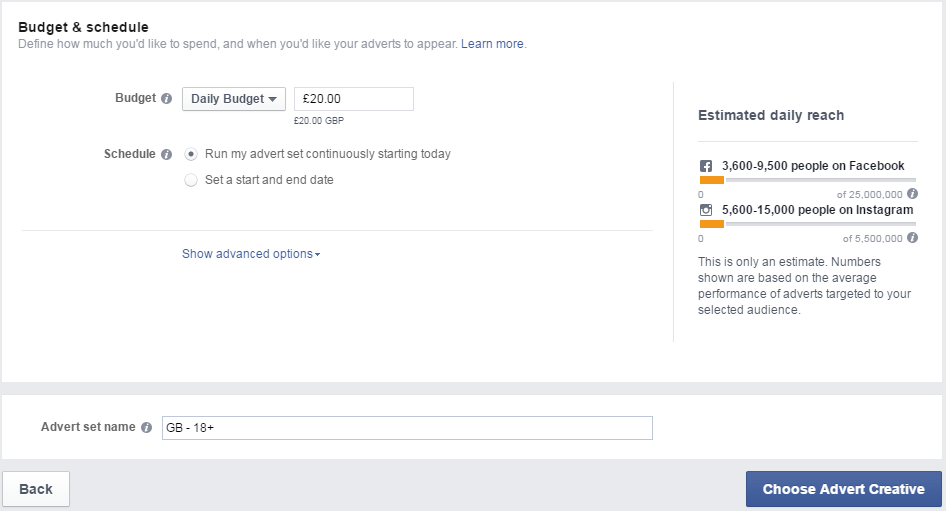 Now you will be able to actually create the advert. Select the style, here I selected a single image advert.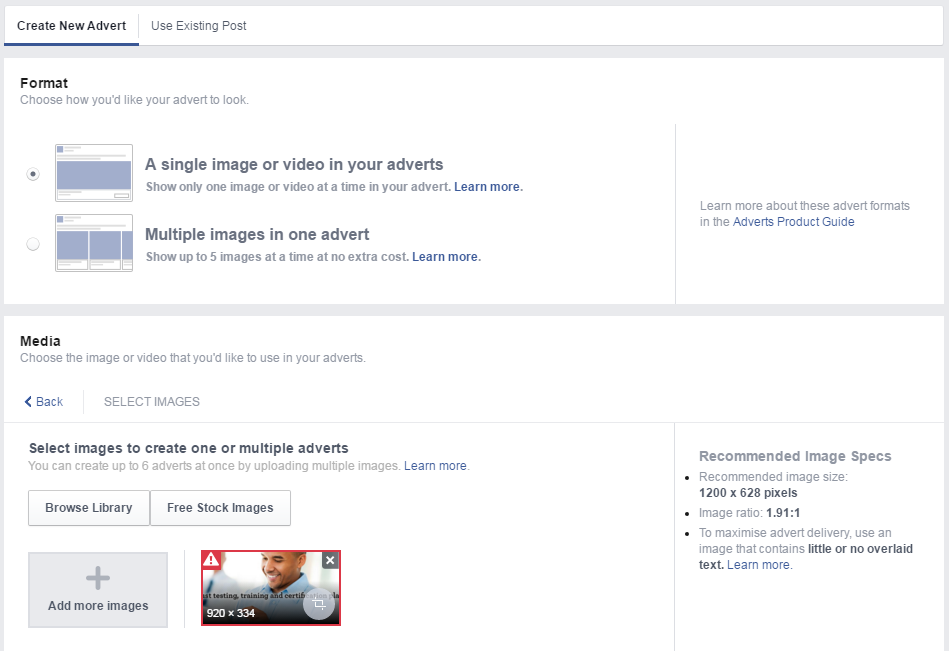 And last but not least, select the devices you would like your ad to show. Because we are looking at conversion, I suggest ticking mobile and desktop.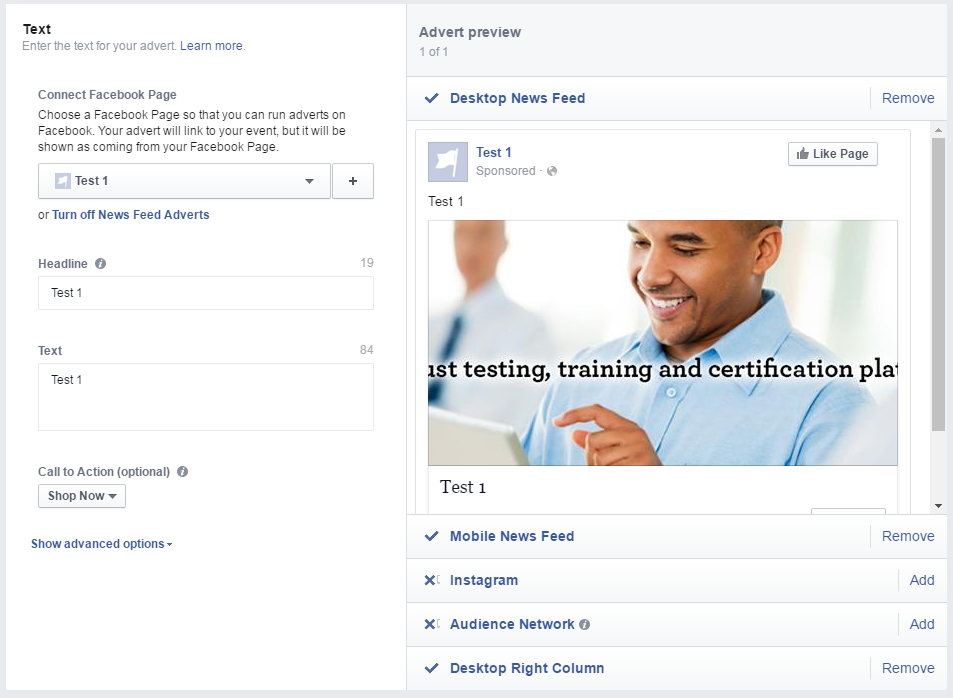 So just to reiterate myself, retargeting with Facebook is the best way to keep your brand and products on the top of the visitors minds while they are making their decision.
The trick is simple, keep it precise to the audience you are targeting and the chances of conversion will work for you.
I would also like to suggest that when you're creating these ads, play around with duration and redefine the target audience, see what works best for you and amplify that.