The latest in Search Advertising
With AdWords Alpha being rolled out more and more each week, we are beginning to discover all of its new features. As much as we are struggling adjusting to AdWords Alpha, we must admit… it has some great new features! A few weeks ago, we talked about 3 things you need to know about Google AdWords Alpha (read here…) and today we will look into the latest discovery: Promotion Ad Extensions.

Promotion Ad Extensions
Previously, there has been 11 Ad Extensions, these have all been very useful for making your advert stand out and get more clicks. Now, with the release of AdWords Alpha, we have seen the birth of Promotion Ad Extensions. This brand new extension is a great way to advertise a promotion, based on preset occasions or on dates of your choice.
Let's take a look at some of the preset occasions:
New Year's
Valentine's Day
Easter
Mother's Day
Back to school
Black Friday
Along with these preset occasions, there are many more. Using these will make it very easy to set promotional discounts on certain products and prices over set time frames. These occasions should also give you a great outline of what your Marketing Calendar should look like… we certainly hope you have a Marketing Calendar!
More features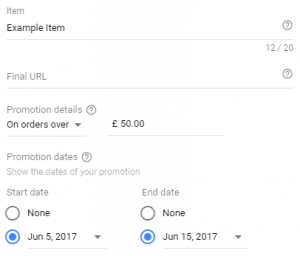 Once you have selected the occasion/date range, you can now select the promotion type. There are 4 different promotion types to choose from: Monetary Discount, Percentage Discount, Up to Monetary Discount and Up to Percentage Discount. All 4 are great options and will be suitable depending on the offer you want to put on.
Next, you have up to 20 characters to write your item name which really isn't a great deal. Before adding in the final date range, you can select from 2 promotion details: On orders over or Promo code. These are simply more options to further customise your promotion.
The finished product
Once you've filled out all of the information above, your Promotion Ad Extensions are almost ready to go! If you open the Advanced options drop down, you will see that you can also set a schedule for the hours in the day you would like the extension to show.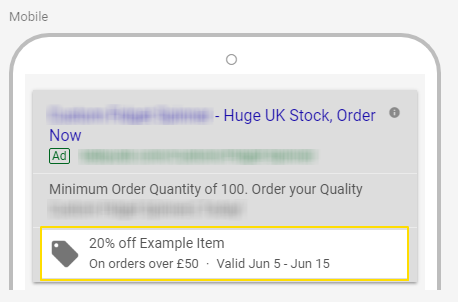 Voilà! Here at Click Convert, we absolutely love the new Promotion Ad Extension. When it comes to PPC Advertising, bigger adverts usually mean you will catch more eyes. Using this new Ad Extension, along with Site Links, Call Outs and more, your advert will easily be looking the most clickable!
Need a hand? Click here to enquire with us today »