Sorry it's been a couple of weeks since I last touched base. If you've been following my other posts, you'll remember that I've been working tirelessly with the team to re-position Click Convert as an agency that provides the best possible digital advertising service for our clients.
As part of this revamp, we have been looking at offering new advertising services; one in particular that we've been working on is ready to launch. Click Convert is becoming a Google CSS Partner!
That all sounds good and well, but you might be wondering: "what does this mean for me and my business?"
Let me tell you.
The conception of Google CSS Partners
In June 2017, Google was fined £2.1 billion by the European Commission for breaching antitrust rules; it was unfairly promoting Google's comparison shopping service at the top of the SERP (search engine results page) ahead of others. This counted as abuse to market dominance as a search engine, giving an illegal advantage to other Google products with its comparison shopping service.
Commissioner Margrethe Vestager: "What Google has done is illegal under EU antitrust rules. It denied other companies the chance to compete on the merits and to innovate. And most importantly, it denied European consumers a genuine choice of services and the full benefits of innovation" [view full press release here].
What has Google done to fix this?
Google's changes as a result of the ruling have been unfolding over the last year; now, one of the more common predictions about what will happen is becoming true. With the significant increase in advertisers opting to run ads through a CSS (Comparison Shopping Site) outside of Google Shopping, a new CSS Partner programme has been announced. This now allows other price comparison shopping services within the Google SERP.
This Partner programme, for the time being, comes with an incentive to entice you to utilise third parties that become its CSS Partner. This incentive is called SpendMatch; it's been hinted that this incentive won't last forever, so the sooner you make the switch, the more you can reap the benefits… and the benefits are certainly very enticing!
Here's a snippet from Google's announcement: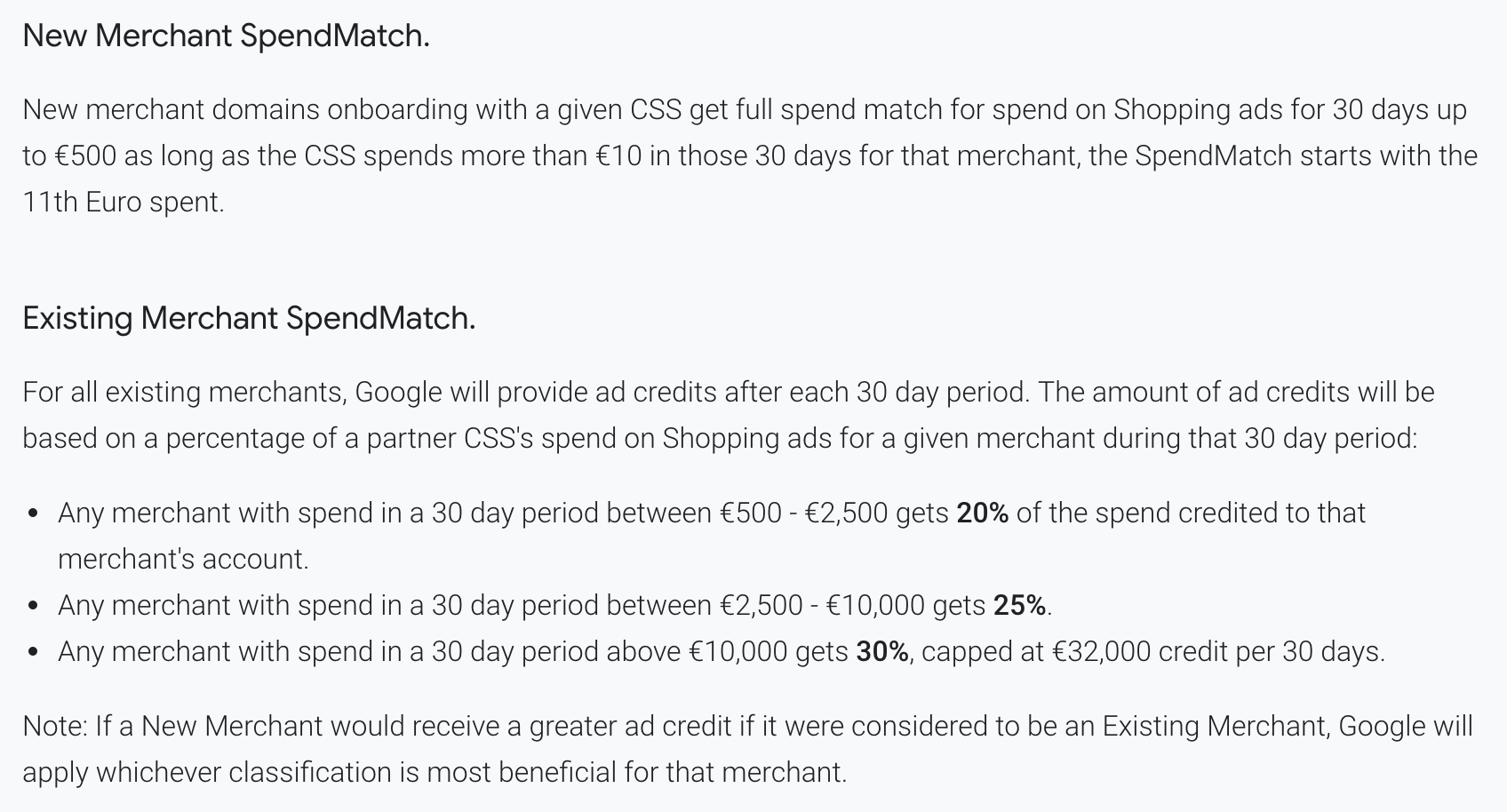 Another big change from this comes through the auction process behind the ads; currently Shopping ads within the EEA (European Economic Area) which come through Google's own CSS, the CPC (cost per click) entered into the AdWords auction is split into two parts. These two parts are the actual CPC and a margin, which has been estimated to be around 20%. The margin is a percentage taken from the CPC.
Breaking down the SpendMatch incentive
Firstly, the rebate: you'd be right to presume that this is based upon your level of spend. Simply put, if you spend £5,000 over the next 30 days, you will have a whopping £1,250 credited back to your account!
On top of this SpendMatch, you may also be able to receive a further 'discount' of up to 20% on your CPC (cost per click). Here's how that works:
Let's use £1 as an example for a keyword CPC. In layman's terms, this £1 is broken into two parts: margin and bid. The margin takes up to 20% (20p) and is essentially Google's cut of the cost, leaving the other 80% (80p) entering you into the auction for that keyword.
However, if a competitor is using a CSS such as ours and if they have a max CPC of 90p, at this moment in time they will beat you in the auction. The full amount will be used vs your £1 max CPC through Google, minus the up to 20% margin bringing your bid to 80p. It's plain to see that 90p is a higher bid than 80p.
In real terms, there are two ways you can utilise this 'discount': if you are happy with the return you are currently getting, you can reduce your bids by up to 20%, meaning you can (in theory) reduce your current costs by up to 20%. Alternatively, if you maintain your current bid of £1, this will potentially improve your positioning; you would be bidding the full amount and not paying any margin, driving even more traffic and resulting in even more sales.
Is it all too good to be true?
As you'd expect with most things, there are pros and cons. I've gone over the pros, so it's only fair I cover the cons now.
Our first con lies with Google's support system. If you decide to continue using your current account, you will lose Google support for that account (not that many people really benefit from it). However, if you set up a new account for Shopping only, you will maintain this support on your current account, in addition to receiving extra support from a Google CSS manager.
Another con was touched upon earlier in the post: this rebate is only going to be available for an unspecified period of time determined by Google (we think it will be for at least the next 12 months, but there's no real way of knowing). The sooner you act, the more you can benefit from this.
Is it worth it?
For me, the pros definitely outweigh the cons. By working with a Google CSS partner, there are some serious benefits – both in cost saving and improvement in traffic volume – to be taken advantage of. You can receive expert digital advertising optimisation and a knowledge of how to save you money while sitting successfully on the Google SERP; the difference to your online results can be phenomenal.
To see if you are eligible for this service and see how much you can save/improve your online advertising, book an appointment now with one of our experts. Let Click Convert boost your business.