What is a Custom Audience
Custom Audiences allow you to categorize people into various groups. The grouping is determined by your requirements and these can be as simple as visitors to your website or a group segmented by their interests, behaviours, income, gender and age grouping. In fact the segmentation options are nearly endless.
Why use Custom Audiences
Every advertiser worth his or hers salt knows that to create amazing ROI its required that we match our advertising as closely as possible to the target audience. Facebook audiences enable us to build tight focused groups of prospects. Initially the audience may start out very broad such as those interested in Triathlons aged over 40. However after analyzing your initial result we may detect that the segment of our audience that responds are 45 to 55 old men with a high disposable income in professional and engineering roles. Therefore at this point you will need to adapt your advertising strategy.
Re-marketing Audiences
With Custom Audiences on Facebook it is now possible to reach people with whom you have already established a relationship with via Social Media or Website visits.
But there is one thing these categories should have in common, the people in them should have already demonstrated interest in either your products or services. This way you know that the chances of conversion are much higher.
The easiest way of doing this is by either importing a list of people's emails and telephone numbers or a by using a list of website visitors, after all we are showing you how to start everything from the ground up, you can worry about other categories further down the line.
Let's start with how you find and set Audiences on Facebook Business Manager.
It's possible to set your Audiences in two ways, the first is through: Ads Account > Tools > Audiences.

The other way to create Custom Audiences is by going to "Power Editor" then to "Audiences" followed by "Create Custom Audience" (we covered Power Editor on another blog post click here to read more about the Power Editor).
A group of pop-up windows will now be presented and you will have to select a few boxes.
The first pop-up box will be asking you to define how you would like to select your audience, this can be done via a customer list, containing information such as email addresses, phone numbers, user ID's etc.., website traffic, so the details of people that have been on your website, or via app activity.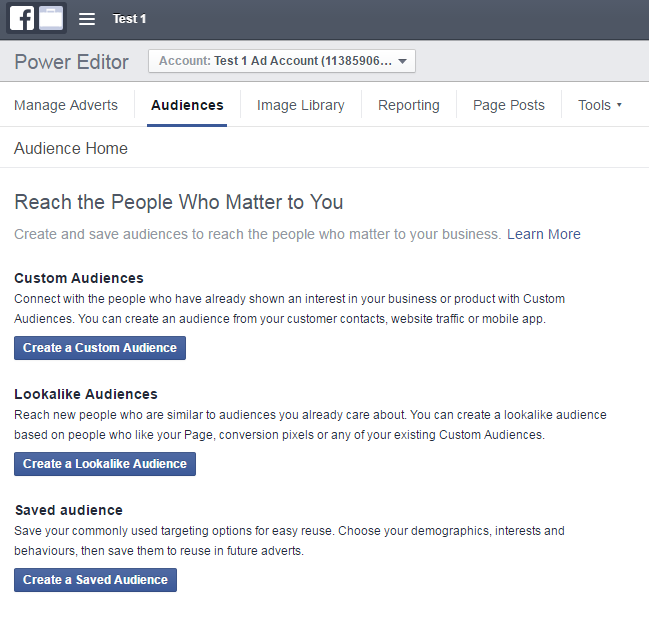 In this particular instance we will be uploading a list of emails we already have, therefore we will need to select "Customer list" option.

Once you have clicked on "Customer List" a new pop-up window will appear, this time it will ask you to pick the way in which you will add this audience you are creating, we will be selecting "Upload a File".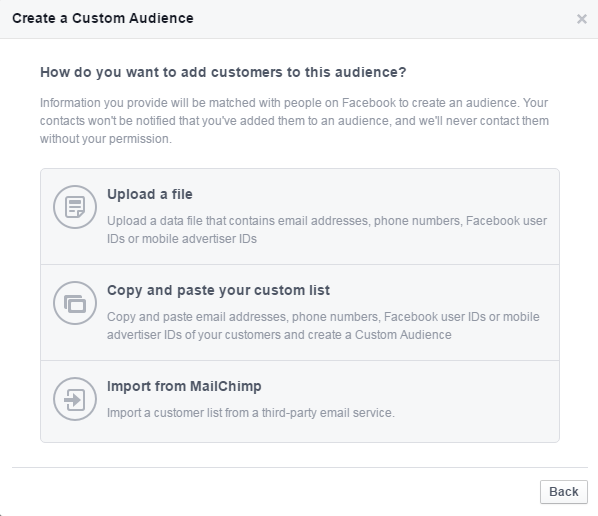 Now that you have selected "Upload a File" a new window will ask you to pick the file you want to upload, please note, this file needs to be in either a .txt or .csv format.
Once you have chosen the file you want to upload, click "Create Audience" which will now be highlighted in blue.

Now that the file has been uploaded, it will ask you to name this audience. Please note that when you're naming your Audiences, try to add very descriptive names so you know exactly what they are further down the line when you have several Audiences and need to distinguish them apart (name below is for example purposes only).

The last pop-up window will ask you to select whether you want to start an advert using the audience that you have submitted before or if you would like to expand the audience, in this instance we have selected to "Create an Advert" and clicked "Done".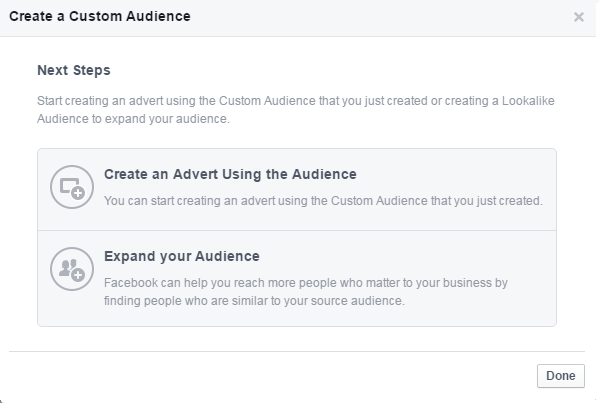 Your audience has been created!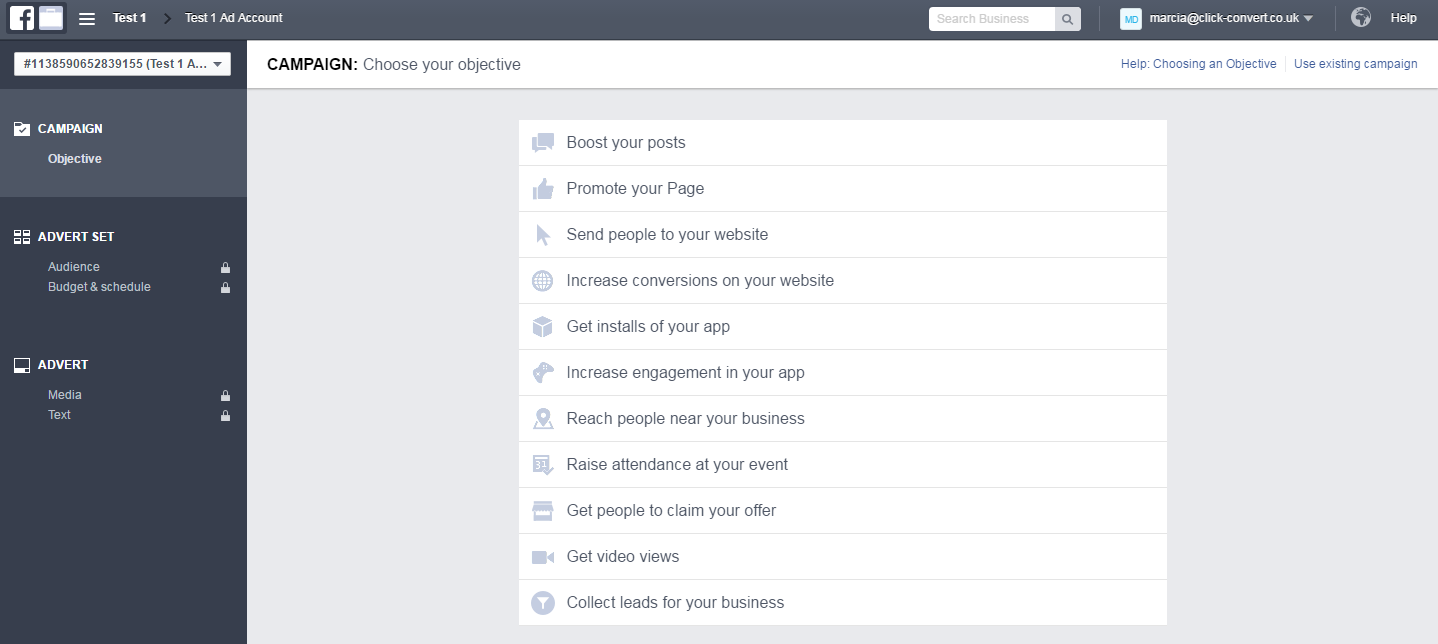 On this next screen you will be prompted to pick the objective of the campaign, I picked "Promote Page" once you have selected it, you will be asked to give the campaign a name and to set an audience and a budget.
That's it, you are ready to go!
If you have noticed this was very straight forward, the audience selection was easier because in this case we imported a list of contacts we already had, therefore there is no need to worry about setting ages, gender or location as our list is already very specific.
This is a better way of advertising because you already know that these contacts are from people that perhaps signed up to newsletters or a guide you were giving away for free, so these people are already interested in what you have to say. Therefore it is likely that they won't mind seeing your adverts on their feeds because they already know the brand (in this particular case we are trying to increase numbers of likes, so we don't want to reach out to those that already like the page). All we need to worry about is that we can reach to as many of the contacts that haven't yet liked your page as possible.
Another advertising idea that I think suits these Facebook Ads greatly is product updates, let's say you sold a phone, and you have the contacts for everyone that bought that phone, but you're now ready to launch the new model. You know that it's likely that people will buy into the new model because they have and liked the last one, so you can use this style to "announce" the release of the new handset and try to get them to upgrade.
It's well documented that people that have previously purchased from a brand are much more likely to purchase again. Plus it's much easier to sell to current customers than to find new ones.
These are just two examples, there's many more that suit this advertising style.
That is it from me today. Go out there and implement this guide. Alternatively give us call on 08444 780 999 and we will do it all for you!