We're called by Google daily, and I bet you've had a call or two from them too. Yet, we have become suspicious about the quality of the advice given by our Google Strategists recently.
We're Google Premier Partners, so we get the high-end support level, yet recently the Google reps don't seem to know the basics of Google Ads. They appear more concerned with our clients switching to smart campaigns and automated bidding, which can cause real problems on some accounts.
We began to ask the reps questions and then we asked: "Do you actually work at Google?" The answer was no!
So what is going on?
Google is under huge financial pressure to deliver results for shareholders. With increasing volumes of advertisers recognising the potential of Google Ads, the platform's customer base continues to grow. Customer support, therefore, has become increasingly expensive. In a cost-cutting measure, Google has outsourced part of its customer support to a third party.  Yes, they outsourced their Google reps.
Who is Google's Third Party?
Regalix, a global telesales company,  working on behalf of Google, describes itself as a "Customer Acquisition and Customer Success" company.
Often 'Google's' customer support comes not from Google, but from this third party. When asked on a recent phone call, one of the 'Google reps' explained to us that they had been selling loan services only a short time ago. Think about it, can you feel confident that the individuals giving advice are entirely conversant in every intricacy of Google's advertising platform? Are they experienced enough to offer advice and is this advice definitely to your benefit, not Google's?
Regalix count a number of tech giants among their customers. In their discussion of their partnership with Google, they claim to have "[increased] ad revenue for Google" and state a significant 50% reduction in support costs. It appears that Regalix has benefited Google, but has this cost-cutting been detrimental to customers?
To increase efficiency, Regalix predicted when customers were likely to need to reduce spend or stop advertising, and contacted them at the relevant time. To make their predictions, the third party agency undertook a "thorough investigation", accessing information including but not limited to "login history, spend trend and conversions".
You can look at Regalix's case study for the work they are undertaking for Google here. Notice the title  – 'Account management at global scale increases ad revenue for Google'.
If you're skeptical about this, take a look at Regalix's Glassdoor reviews, as well as their Hyderabad office reviews – note that you will be required to log in.
Google Ads forums have been alight with this news. Recently, Regalix has been emailing advertisers about a "missing update". This includes advertisers who have chosen to entrust an agency with their online advertising. When the advertiser's agencies, acting in their client's best interests, have declined Regalix's suggestions, they have contacted the client directly. The update in question is actually an entirely optional update that switches accounts to automated bidding. The decision not to use automated bidding may well have been taken strategically, because the agency believed it could be damaging to the client's results. The email, however, fails to mention this.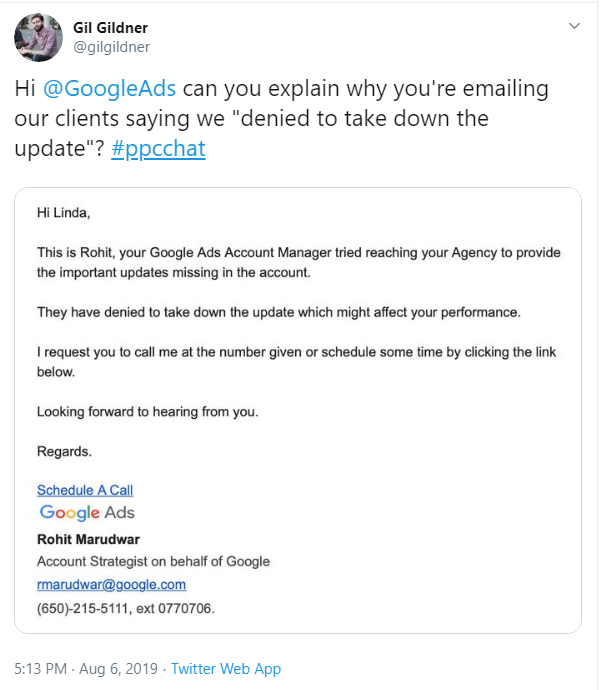 At first glance, this email appears to have come directly from Google, however, the footer states that this individual is acting "on behalf" of Google.
We receive calls here in our office which offer advice on how we can boost the results of our clients. Often, this advice centres around automation. Automation has its place, but we find that unless an account has large amounts of data for algorithms to base their decisions on, it isn't always reliable. Think about Google's big push on Artifical Intelligence. Is it really a way to reduce their customer service costs?
If you receive an email or phone call about your account, be aware that this could be from a third party, rather than Google themselves.
How Can Click Convert Help?
When we offer a review, we provide you with unbiased advice with the aim of providing you with better results. If you become a client, we understand the importance of helping you succeed. Our clients are vital to us. If you don't get the results you want, we know that you're likely to move on.
We believe that keeping you informed empowers you to achieve great results. If you would like us to look over your Google Ads account, just get in touch. We'll give you a no-obligation review and a series of pointers to improve performance.