Breaking News!! Today we have found the first signs of the long awaited tablet bid adjustments in Google AdWords. We PPC Specialists have been waiting years for another opportunity to have better control over tablet bidding without employing long winded workarounds. They seem to be rolling these out very slowly as we have only seen them in a select few of the accounts we manage. When they do appear they are seem to be currently only available on display campaigns.
The adjustments are in a beta state at the moment and don't appear to be working correctly – changing the tablet bid adjustments will not always save in the account. Within the coming days in the rollout we expect this to be ironed out but it may be best to wait until the issues are fixed because using the adjustments as it may not allow you to undo your changes! On the Plus side we can see that we will be able to reduce the bids by 100% and increase them by up to 900%!! Yes 900%!!!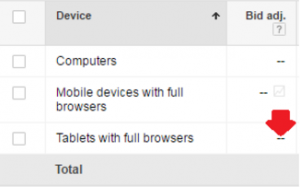 Some of you more eagle eyed readers might have noticed that the computers device segment also now has a bid adjustment, how will you be structuring your bidding strategy for multiple devices?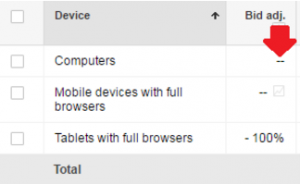 Have a check of your accounts to see if you have been given advanced access and let us know your thoughts. Hopefully over the coming weeks we will see tablet bidding adjustements appear in both search and shopping although these  may be rolled out individually rather than all at once.
Regardless, this is an AdWords update we're actually happy about!
TABLET BIDDING IS BACK 🙂